Have you ever had a bad experience when the in-house sound guy just didn't make your band sound good? Why rely on a house sound guy if you could hire your own professional engineer who makes sure you sound as good as possible on stage? Hire us for an affordable PA, monitor mixing and sound engineering service!
Sound Hire for gigs, presentations, conferences and events for upto 250-300 person audience size. Affordable solution, high quality sound, sound engineer and colored lights included.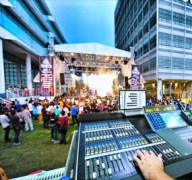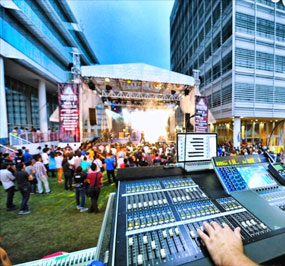 Record your song, album, gig or conference with Csapo Mobile Studios anywhere in Ireland. If your dream is to rent a country house or a castle for recording, or if you want to use your own room, Csapo Studios is the ideal mobile recording solution. We have a sound isolated studio van, which could be used to record vocals or any one instrument at a time or used as a control room to broadcast events or record concerts.
We can record your event on video or use the 'Green screen technique' which means we can put any background behind you. Imagine yourself speaking next to your favorite movie star or even in the space, we will make it look like you are there! This studio technique is used from news channels to Hollywood movies worldwide and now available to you!
Check out our Youtube channel with our sample videos!
Record your conference, put the recording up on your website or send it out to your audience on CDs! Inexpensive marketing with great results!
Showcase your singing talent with a karaoke recording! Select a karaoke song from YouTube or any karaoke provider and book Csapo Studios to record the vocals. We are the karaoke recording specialist in Dublin. Have you ever thought to surprise someone on her birthday with her favorite song with custom lyrics? Book Csapo Studios and together we make the present of her life!