Mixing, Mastering and Audio Editing
Send us your recording and we mix and master it to the highest standard. We use the top mixing and mastering solutions available and can make your songs or conference recordings sound pristine. Examples: broadcast ready mastering, bass enhancement, noise removal, vocal tuning, building vocal harmonies, editing audio.
Click here for more information
Sound Hire
Sound Hire for gigs, presentations, conferences and events for upto 250-300 person audience size. Affordable solution, high quality sound, sound engineer and basic lighting included.
Click here for more information
Vocal Recording
At this moment we only record vocals because that is our speciality. We can provide you with the very best quality recorded vocals in Ireland!
Karaoke Recording
Would you like to give a special present to your family members, colleagues or friends? A song is something that never fades! Select a song that you want to record from Youtube or bring your own song, customize the lyrics of the song, for example "Happy Birthday Mary", "You are the love of my life Suzie" or "For my little Johnnie". Give it to them on a CD and they will be amazed with the present of their life! We can also do a video for your song! Click here for more information
Live Sound Engineering Service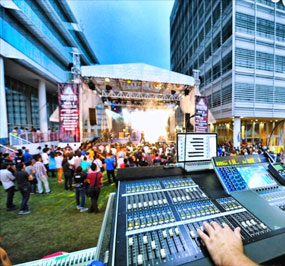 Your performance can be only as good as it sounds. Have you ever experienced that you were rehearsing for weeks and at the gig something was wrong with the sound? You were told after the gig that it was good, but you see that your friend's face shows that something wasn't right? Did you have a speech at an important conference, and your message didn't come through because the audience couldn't clearly understand your joke?
All these issues are likely due to a bad sound quality! Hire us to ensure that the sound at your next performance is as as good as possible! Click here for more information